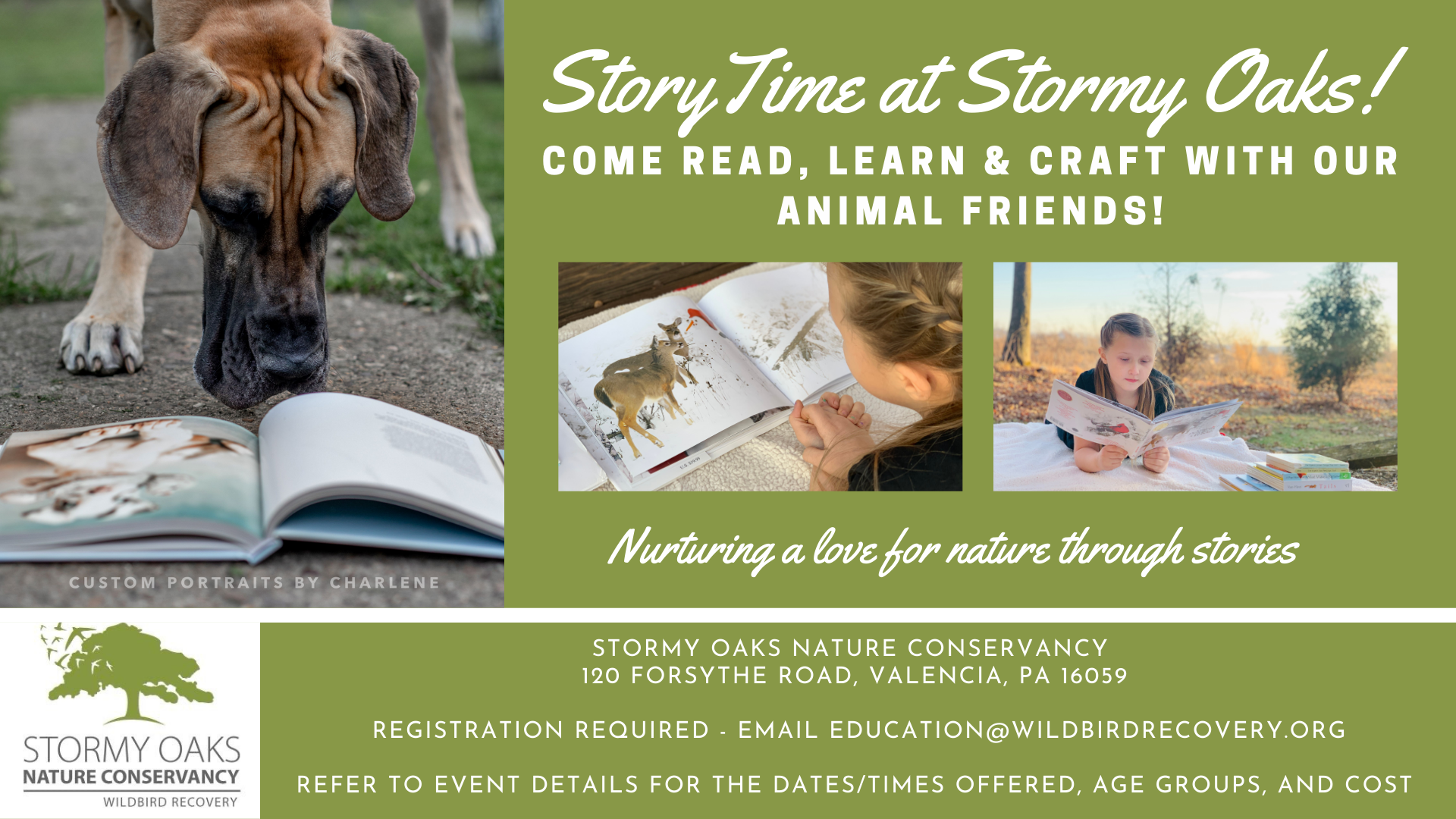 StoryTime with Stormy Oaks Nature Conservancy
StoryTime Programs June 2022 with Stormy Oaks Nature Conservancy!
*Registration is required for this class.*
We offer two class times a day:
10:30 AM to 11:30 AM
1:00 PM to 2:00 PM
Each class has a particular animal theme where children enjoy a story, craft or scavenger hunt, and have the opportunity to meet and learn about an animal friend.
Email us at education@wildbirdrecovery.org with any questions about our StoryTime Program.
Time: 1:00 PM – 2:00 PM
Day of the Week: Monday
Animal Theme: Dogs
Location:
Stormy Oaks Nature Conservancy
120 Forsythe Road
Valencia, PA 16059
Educator: Ms. Amber
Age: Although the StoryTime Programs are geared toward children aged 3-8, children of ages infant to 10 are welcome to attend with their grownup.
Cost:
Member Pricing – $10 per child/grownup pair (*The cost is $10 per each additional child. Additional children under 2 years of age are welcome with no additional cost.)
Non-Member Pricing – $15 per child/grownup pair (*The cost is $15 per each additional child. Additional children under 2 years of age are welcome with no additional cost.)
**
Purchase a FAMILY – Traditional Membership
** to take advantage of the discounted pricing on our education programs. Visit our website:
https://www.wildbirdrecovery.org/membership/
for details. If you require assistance to determine the membership that is the best fit, please email membership@wildbirdrecovery.org