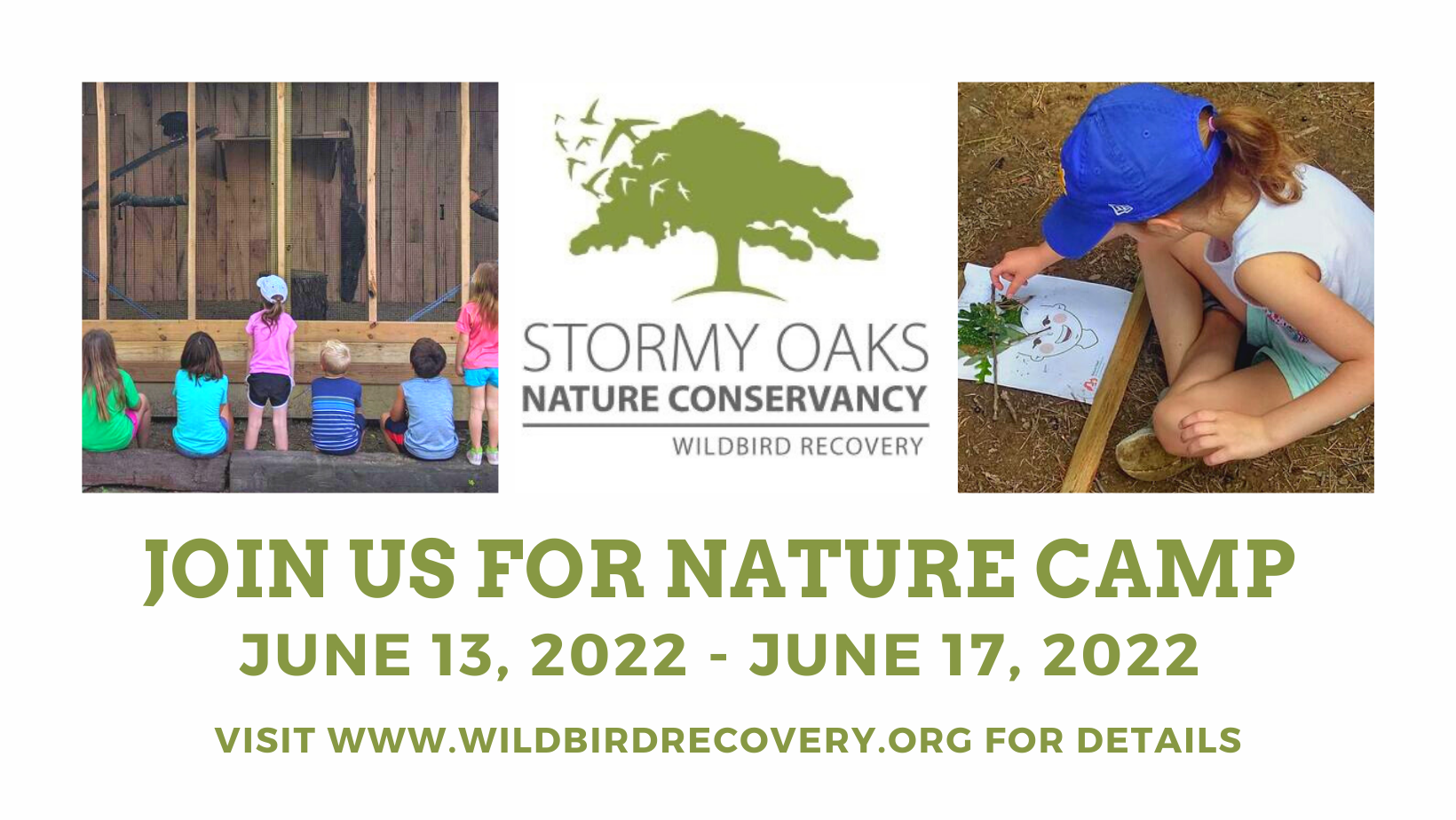 Nature Camp at Stormy Oaks Nature Conservancy
Join us for a week of Creature Conservationists – a nature based summer camp at Stormy Oaks Nature Conservancy! The Junior Conservationists will spend a week exploring our 14 acre Conservancy, enjoying nature and of course, discovering the amazing adaptation of birds! Learn about conservation and what it takes to care for our world! We will learn about the native creatures that share our planet and how they survive in their environment. It will be an exciting week of games, live animals, and activities focused on the world around us.
The Junior Conservationists attending camp will interact and play with other students their age, make friends and have a great time during this inquiry driven camp guided by expert educators!
*Registration is required for this camp.*
We offer two sessions for camp:
9:00 AM to 12:00 PM
1:00 PM to 4:00 PM
A child can sign-up for either the morning session or afternoon session.
Email us at education@wildbirdrecovery.org with any questions about our June 2022 Summer Camp.
Dates: June 13, 2022 – June 17, 2022
Time: 9:00 AM – 12:00 PM
Days of the Week: Monday through Friday
Location:
Stormy Oaks Nature Conservancy
120 Forsythe Road
Valencia, PA 16059
Educator: Ms. Alexis
Age: 5 – 10 years old
Cost:
Member Pricing – $225 per child per week (T-shirt included)**
Non-Member Pricing – $275 per child per week (T-shirt included)
**
Purchase a FAMILY – Traditional Membership
** to take advantage of the discounted pricing on our education programs. Visit our website:
https://www.wildbirdrecovery.org/membership/
for details. If you require assistance to determine the membership that is the best fit, please email membership@wildbirdrecovery.org