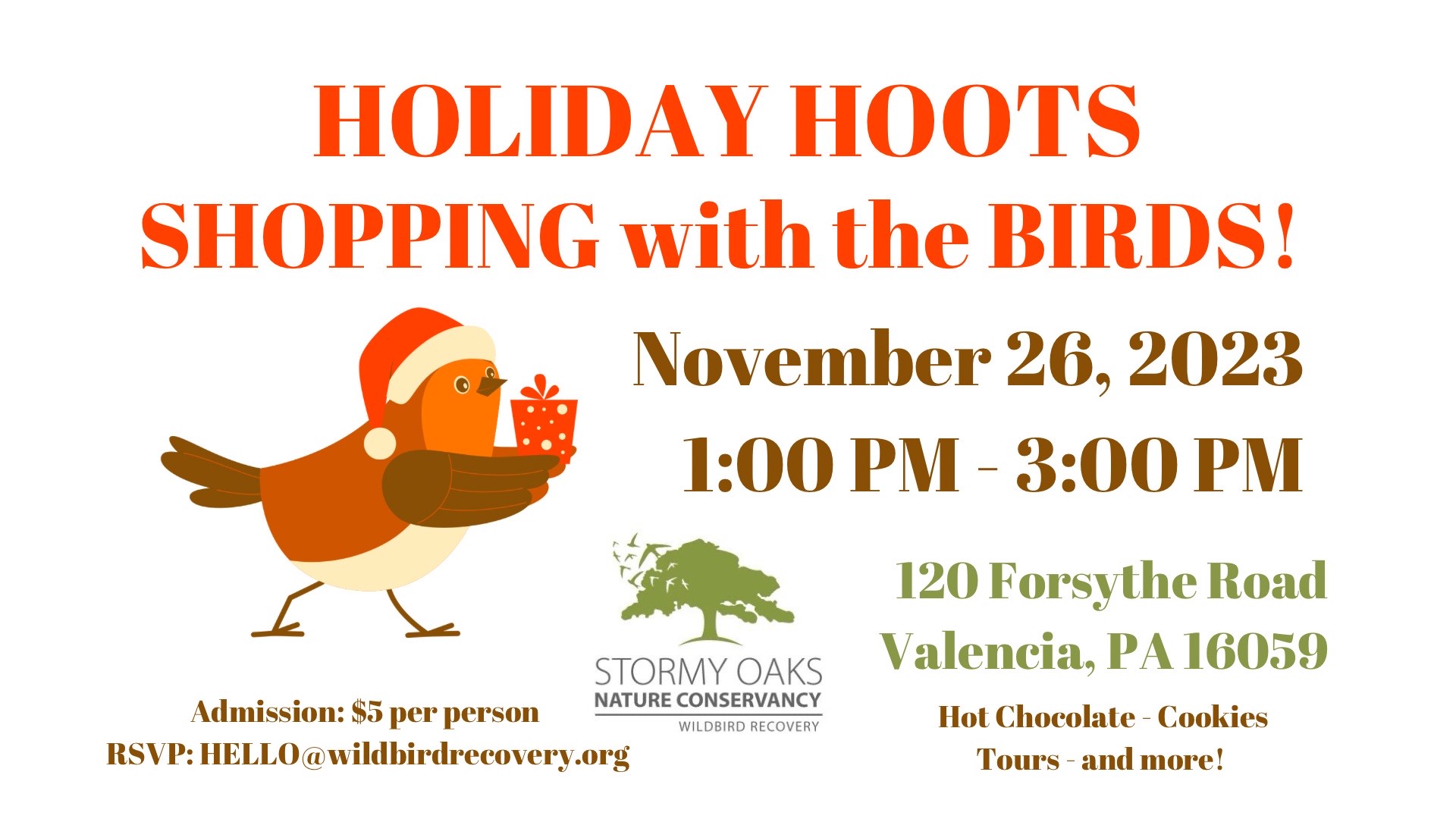 Holiday Hoots – Shopping with the Birds
Join us for our 3rd annual Holiday Hoots – Shopping with the Birds at Stormy Oaks Nature Conservancy in Butler County of Western Pennsylvania. The Conservancy is the home of Wildbird Recovery, Inc., a 501(c)(3) nonprofit organization dedicated to the conservation of wildlife and natural resources. We achieve this goal by presenting on-site and off-site educational programs, in addition to providing more than 20 years of rehabilitation efforts for Songbirds, Swifts, Swallows, and Birds of Prey. Wildbird Recovery is the only PA licensed wildlife rehabilitation center in Butler County and does not receive state or federal funding. We rely on amazing people like you to support our mission. Wild birds play an important part in maintaining the delicate balance of nature. Together we are making a positive impact!
Holiday Hoots – Shopping with the Birds event is the perfect place for nature lovers of all ages to start your holiday shopping. This is a family friendly event and 100% of the sales and donations benefits our feathered friends at Wildbird Recovery! Shopping will take place indoors and while outdoors stay warm near our bonfire. Enjoy hot chocolate or coffee and delicious cookies!
Timeline for Holiday Hoots – Shopping with the Birds (Schedule is subject to change):
Holiday Shopping from 1:00 PM – 3:00 PM (There are many beautiful ornaments, handmade jewelry, vintage art work, and more!)
Our Education Animals will be on display during this event. There will be a tour at 1:00 PM and 2:00 PM.
For more details and to let us know that you are coming to the event, email hello@wildbirdrecovery.org. Admission is $5 per person. Donations benefit Wildbird Recovery to ease financial cost of food and medical supplies of our feathered friends.
Time: 1:00 PM – 3:00 PM
Day of the Week: Sunday
Location: Stormy Oaks Nature Conservancy, home of Wildbird Recovery.
Address: 120 Forsythe Road, Valencia, PA 16059
Admission: $5 per person
Special Considerations: Plan to dress in layers based on the weather for the day. This is an indoor and outdoor event. We will have several hand sanitizing stations. Bring a folding chair to relax around the fire.