4th Annual Baby Shower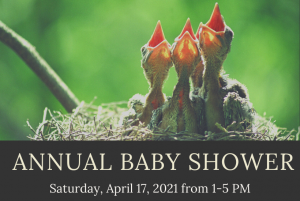 We are raising funds to cover the cost of the upcoming "baby season". Last year about 180 hatchlings, nestlings, fledglings, or juvenile birds were admitted just during baby season costing almost $10,000 to feed! Despite popular belief, in nature, baby season does not end when Spring is over. We sometimes admit babies from March all the way to October!
You will have the opportunity to take tours of the property (and see some of the new flights), meet some of our education birds, win raffle baskets and enjoy an afternoon out! Light refreshments will be provided.
Donation for admission (Masks required): Adults $10, Kids 12 and under $5, Children 3 and under Free.
Raffle tickets: Two tickets for $5, five tickets for $10, or ten tickets for $15
** TICKETS ARE AVAILABLE AT THE DOOR **